Use our thorough list of expanded metal manufacturers and suppliers in Georgia to examine and sort top expanded metal manufacturers with previews of ads and detailed descriptions of each product. Any expanded metal manufacturers can provide expanded metal products and services to meet your companies specific qualifications. An easy connection to reach expanded metal manufacturers through our fast request for quote form is provided as well. This source is right for you whether it's for perforated metal, expanded metal mesh, stainless steel metal mesh or any other expanded metal needs.
Kennesaw, GA
|
770-528-9001
Direct Metals, LLC is a manufacturer and distributor of a full line of perforated metal sheets and expanded metal products as well as wire cloth and other perforated metals. You can choose from a wide selection of flattened expanded metal, regular or standard expanded metal, architectural expanded metal, custom fabricated expanded metal and U-edging.
$$$
Companies Serving Near Georgia
Birmingham, AL
|
800-366-2642
Since 1939, Alabama Metal Industries has served the industrial product markets. AMICO has grown to become North America`s leader in the manufacture and distribution of a complete line of industrial gratings in carbon steel, aluminum, stainless steel, FRP grating, perforated and expanded metals. AMICO offers regular, flattened and expanded metal grating and our expanded metal is used for metal fences, machine & heater guards, enclosures, supports and more. With 17 locations in the United States and Canada, AMICO, the professional choice.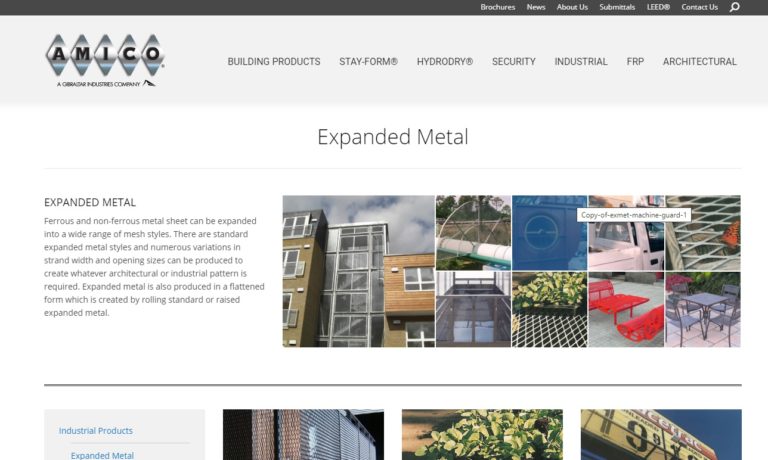 $$$