Expanded metal screens are created from a variety of metals. All common choices are aluminum, steel, stainless steel, copper, iron, brass, titanium, and nickel. Expanded metal screens are made by cutting and stretching metal sheets to create regular patterns like diamonds or hexagons. They are intended to be decorative facades. Read More…
Expanded Metal Screens
Expanded metal screens consist of a surface of light gauge sheet metal that has been slit and stretched to create a pattern of uniform small openings. Also known as micro-mesh, screens are common in industrial, commercial and residential environments.
Expanded metal screens may contain micro-mesh openings as small as 0.6mm (length) by 0.5mm (width). Or, an expanded metal screen may contain nearly an inch-wide standard opening. It is important to note that a screen with thousands of tiny openings may allow the same amount of light, or other material, to pass through as a screen with hundreds of larger ones. The wide variety of apertures, or openings, found in expanded metal screens helps to provide a wide selection when balancing design, visibility, and privacy concerns, while still providing the required protection from environmental factors like rain, snow, and sunlight.
Common Features of an Expanded Metal Screen
As previously mentioned, a wide variety of expanded metal screen choices are available to suit various needs. Despite this diversity, however, all expanded metal screen options share various traits, which we will examine further below.
They can be easily manufactured.
They are easy to paint or polish.
Expanded metal screens are simple to install.
They provide an attractive presentation.
There are numerous thickness options available.
They feature varied hole sizes, patterns, and configurations.
Expanded metal screens are durable.
Their bonds, not similar to mesh that is woven or welded, are constant and strong. Due to its strength and adaptability, expanded metal screening is used in various architectural and commercial applications. It can be a beautiful method to display creativity and design on a structure.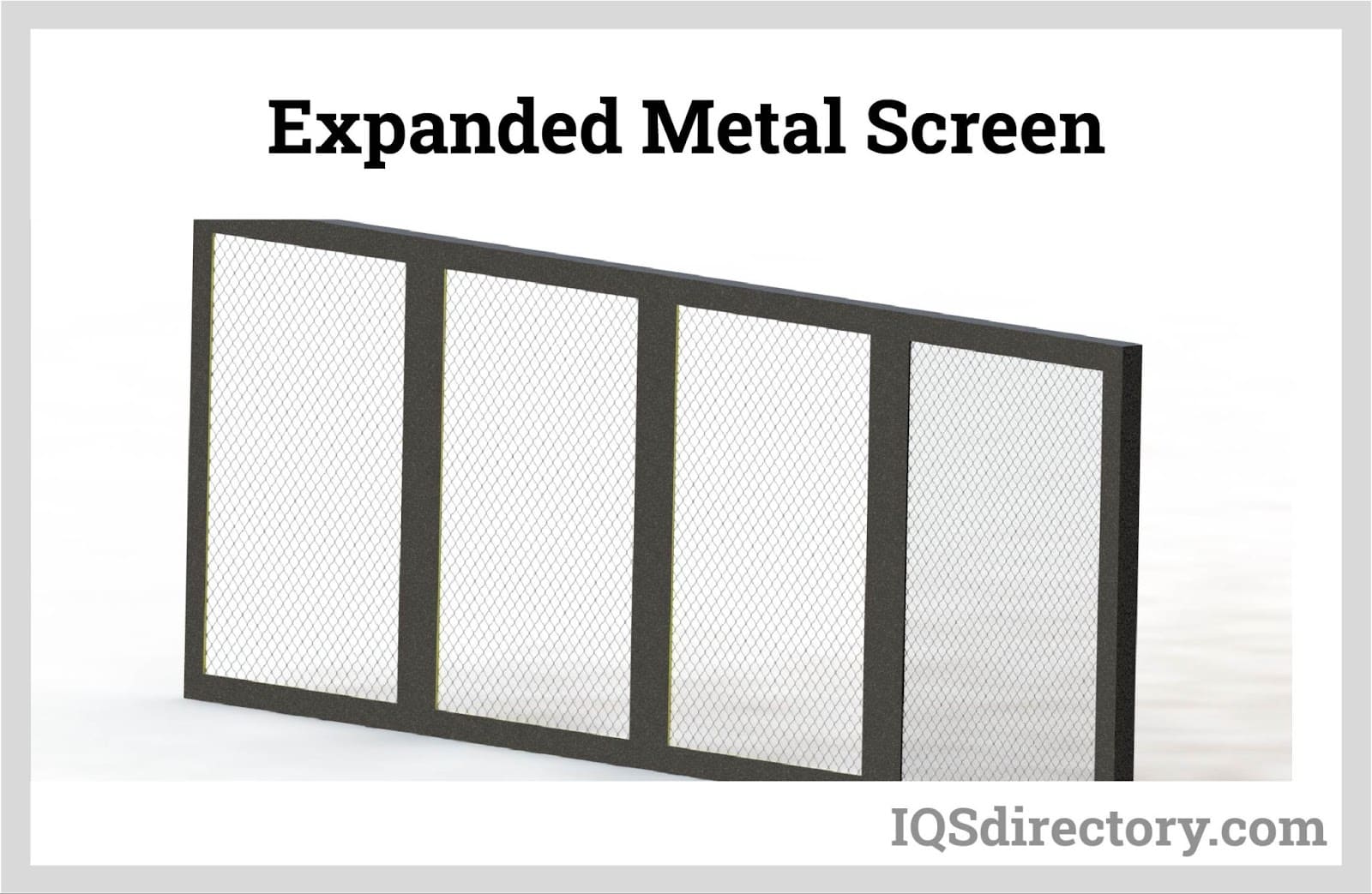 Expanded Metal Screen Manufacturing Process
Expanded metal screens are produced like other expanded metal products using a smaller die and requiring less stretching from an already smaller gauged metal. A metal sheet or plate is initially inserted into a machine that expands the metal just below the die cutter, which resembles a knife. The stock metal has hundreds or thousands of uniform slits cut into it in an offset, alternating pattern. The pyramid die is the most popular die pattern in expanded metal screens, which creates a diamond pattern between the frameworks. However, specialized dies can create almost any pattern. The metal is pulled and sliced in a hot press regardless of the pattern shape. The solid sheet becomes a mesh-like screen due to the pressurized slitting and stretching process, which causes the holes to enlarge. There is no material waste because the metal is sliced rather than punched. Instead, the metal is drawn into fine strands and joined together to form an interconnected structural network that evenly distributes weight throughout the screen.
The metal used in a screen's construction significantly impacts how strong it is. However, it is important to note that expanded metals frequently have better weight-to-strength ratios and are more rigid than the solid metals from which they are formed. In addition to the differences in strength and weight capacities of the various metals used to create expanded metal screens, it is also important to consider that the size and thickness of the finished product may differ significantly from the original metal material used to create these items. The material may also influence the permeability of an expanded metal screen. Still, the open space in each expanded metal screen mostly determines these features.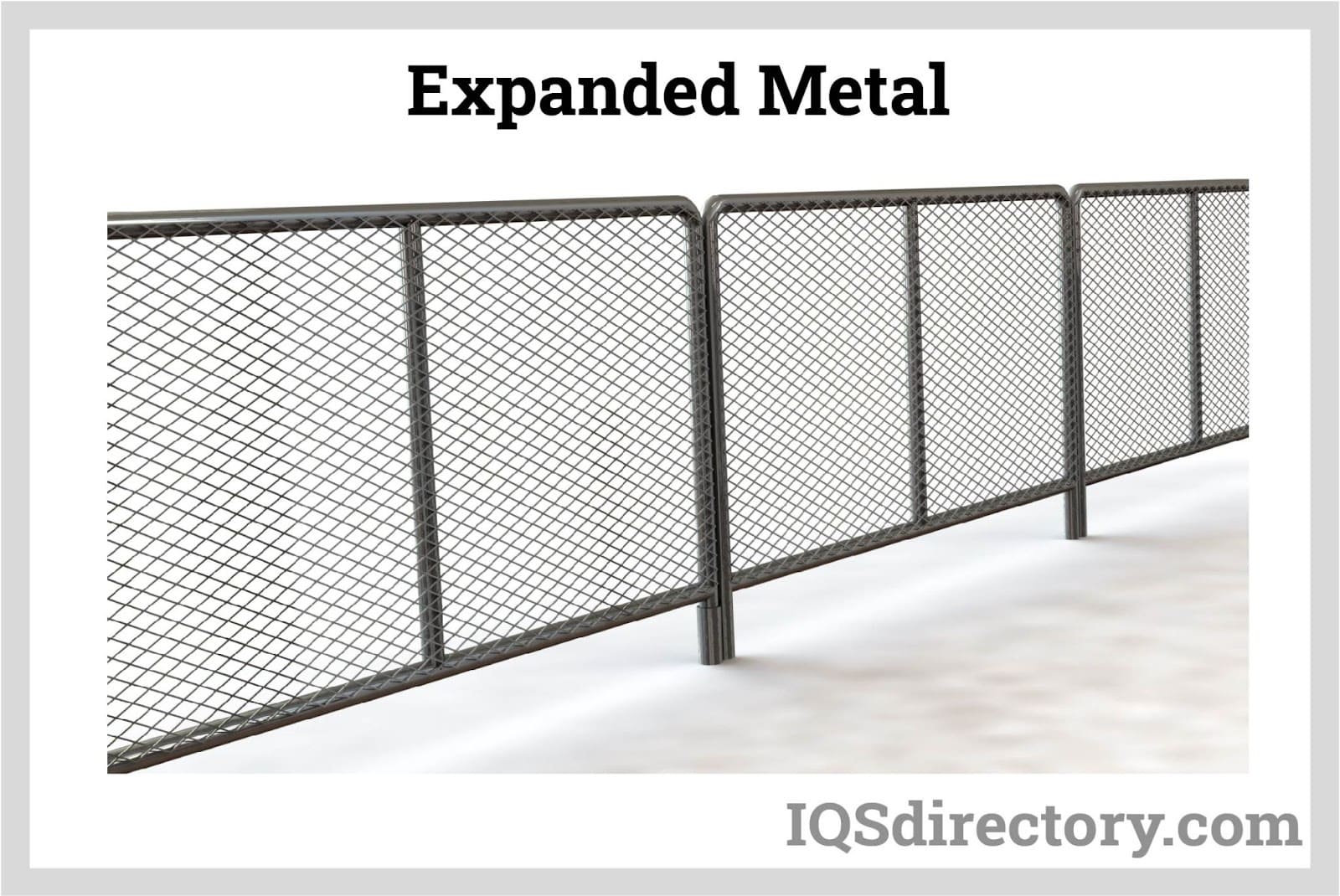 Expanded Metal Screens Benefits
Why choose expanded metal screens over other screen materials? We examine some specific benefits of these products below.
Compared to other equivalent materials, expanded metal screens can pass more air.
Expanded metal screens are environmentally friendly because no material is wasted, and no holes are punched or cut out. In addition, they are recyclable.
Expanded metal screens are simple to create.
Expanded metal screens allow for visual diversity since they change in transparency depending on the angle from which they are seen.
Due to the stretched metal material, their weight per square foot is lower than the source metal utilized to make these screens. The expansion process makes these sheets thinner and causes them to lose some relative weight.
Expanded metal screens are durable and strong. Since they are produced in a single piece, they maintain their integrity. There are no weak spots, unlike woven meshes or sheets that contain connecting seams.
If perforated metal sheets are used to create a screen effect, there is more waste since these punched-out holes are useless.
As a result, the costs associated with manufacturing expanded metal screens are decreased in comparison since wastage is decreased. Therefore, this is an even more crucial factor to examine if a pricier metal is being considered.
Expanded metal screens provide great versatility and can be easily shaped to fit a particular use and design. For instance, wider cuts and larger gaps can be employed if maximum light and air are needed.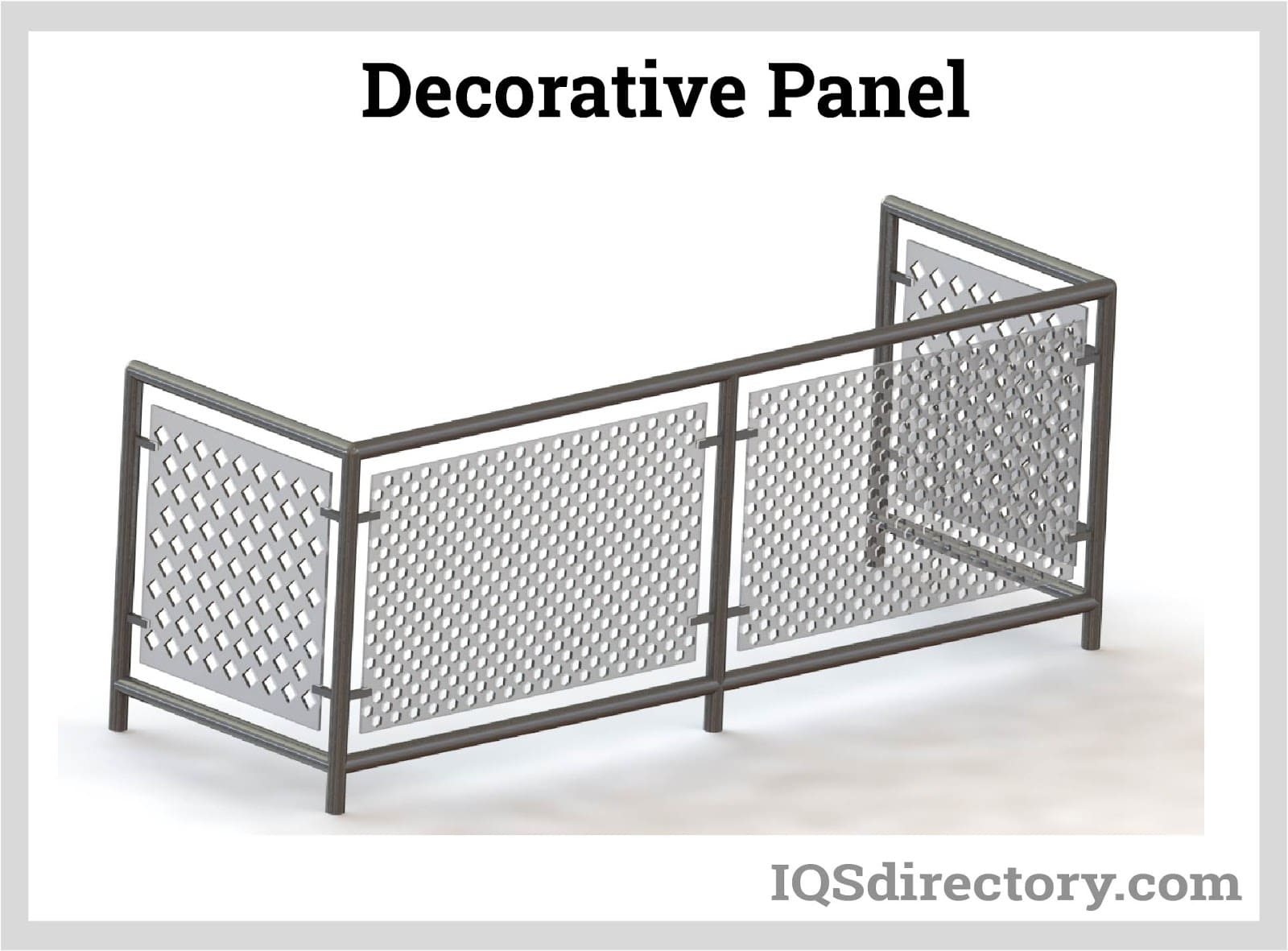 Applications of Expanded Metal Screens
Decorative panels, window guards, railings, flooring, grills, security partitions, anti-dazzle or glare-reduction screens, and protective covers are typical uses for expanded metal screens. Expanded metal screens provide support and protection while allowing air, water, and light flow in any of these applications. We examine some other applications of expanded metal screens in greater detail below.
Dishwasher strainers, microwave screens, dryer and washer drums, gas burner cylinders, water heaters, heat pumps, and flame arrestors are a few examples of appliances featuring expanded metal screens.
Expanded metal screens may feature decorative architectural features in stairways, ceilings, walls, and floors.
Conveyors, dryers, diffusers, and EMI/RFI shielding are examples of industrial equipment using expanded metal screens.
Centrifuge screens, mud filters, backing screens, leaf filters, desanding and dewatering screens, and diffuser drainage plates are all versions of expanded metal screens used in sugar processing.
Choosing the Correct Expanded Metal Screen Supplier
To ensure the most beneficial outcome when purchasing expanded metal screens from an expanded metal screen supplier, it is important to compare several companies using our directory of expanded metal screen suppliers. Each expanded metal screen supplier has a business profile page highlighting their areas of experience and capabilities, along with a contact form to directly communicate with the supplier for more information or request a form. Review each expanded metal screen business website using our proprietary website previewer to quickly learn what each business specializes in. Then, use our simple RFQ form to contact multiple expanded metal screen companies with the same form.
Expanded Metal Screen Informational Video