Expanded copper is a plate or sheet of copper that has been sliced and stretched into a mesh pattern. The mesh pattern can be straight with all the rows and columns aligned or staggered (which offers the largest open area). Various mesh patterns are available depending on the intended use of the expanded copper since the proportion of open surface affects how much space is available for the flow of air, water, and light. Although many designs can be made, the copper is typically stretched with spaces that are shaped like diamonds. Read More…
Copper Expanded Metal
Copper expanded metal is a sheet or plate composed of copper or its alloys, such as brass or bronze. It has been slit and stretched simultaneously to create an open framework of solid construction.
Copper is easily molded and may be treated both before and after metal expansion because it is malleable and ductile. Stainless steel, hot-rolled steel, cold-rolled steel, aluminum, and other sorts of metals can all be stretched in a similar manner. When there are substantial worries about more than just the structure, however, copper is used in applications where this patterned material will be exposed to moisture or other corrosive environments due to copper's superior corrosion resistance.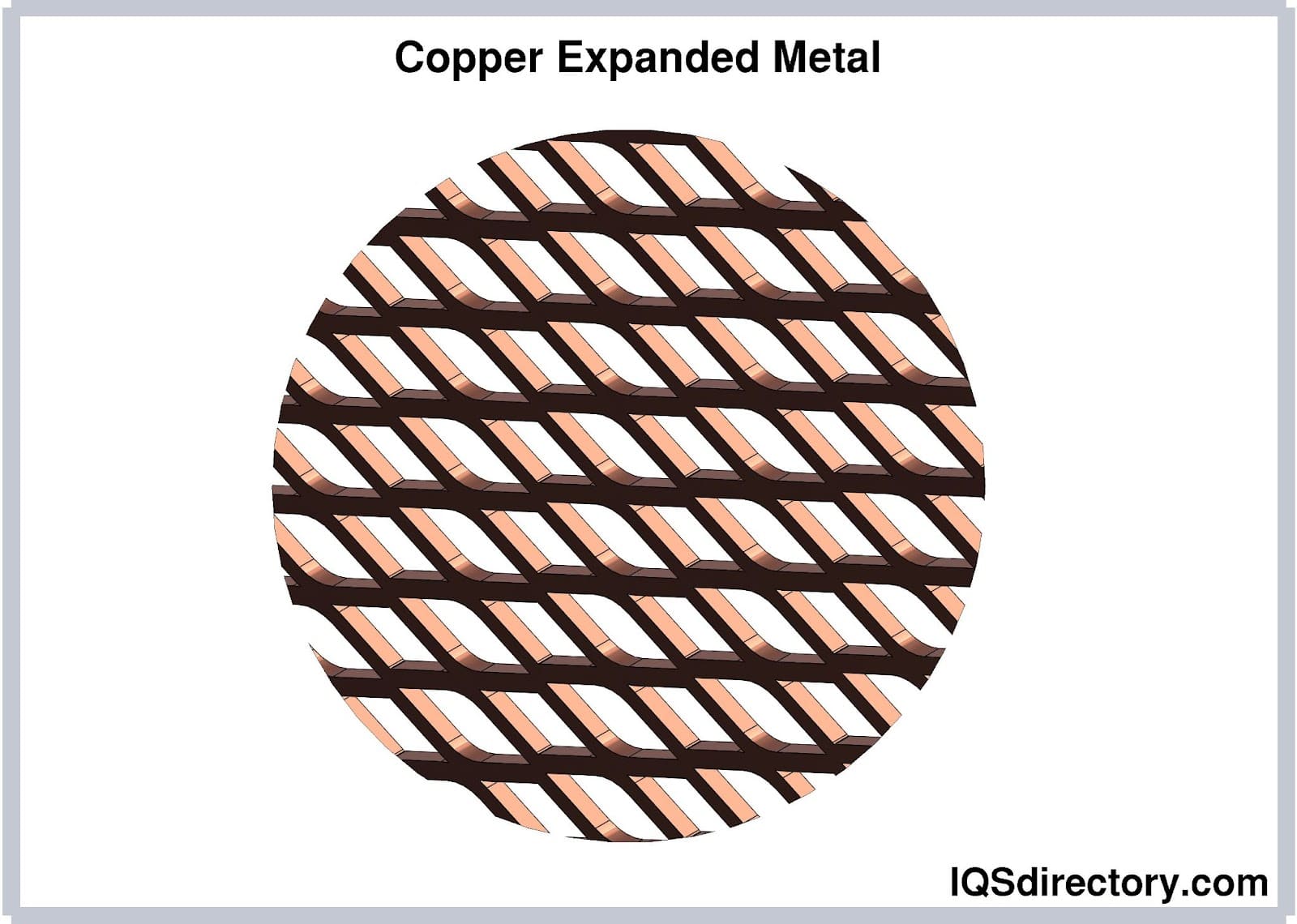 Expanded Copper Manufacturing Process
Although technology has advanced, the first step of the current method of expanding copper still resembles the original procedure. This first step of the copper-expansion process begins with the rolling and shaping of the raw mineral into flat plates or sheets of metal. Computerized technology exhibits notable improvements in speed and accuracy for this step. Next, these stock sheets are then fed into the automated expansion machine. The expanding device is programmed or manually operated as the copper is fed through to ensure a constant pattern. In the expansion machine, a number of knife-like dies cut the metal in an alternating offset pattern hundreds or even thousands of times while, simultaneously, being heated. While being cut, the sheet is simultaneously being pulled through rollers where these pre-cut holes enlarge as a result of the metal being stretched by this heating and pressing procedure. The expanded copper is then twisted into coils or sliced into sheets when it is finished.
The formerly solid sheet of metal is subsequently extruded from the device as a solidly built open latticework. Regarding the primary use or any secondary activities of this finished product, it is important to carefully evaluate both the shape and the proportion of the open mesh area. It is also crucial to keep in mind that the thickness will be greatly reduced and the length extended during the expanded copper manufacturing process when choosing the best sheet metal for a particular application. A copper sheet can expand up to ten times its initial length through the process of expansion.
Expanded Copper Types
The most typical varieties of expanded copper include:
Standard Expanded Copper
Standard expanded copper has a wide range of uses and is quite affordable. There are numerous gauge and opening sizes available. It frequently serves as a hard, elevated, non-slip surface. The strands and bonds in conventional expanded copper are angled uniformly. This increases strength and rigidity while promoting maximum airflow.
Flattened Expanded Copper
Cold rolling expanded copper flattens it, which is how flattened expanded copper is made. It is picked when a smooth surface is desired. The length of the sheet is typically increased by 5% during the flattening process.
Hexagonal Expanded Copper
Instead of the typical diamond holes, hexagonal expanded copper features hexagonal ones. The copper is strengthened by its hexagonal shape, which also permits an easier movement of liquid, sound, light, heat, and air. Hexagonal apertures are favored over diamond perforations in instances where such movements are desired.
Architectural Expanded Copper
The diamond pattern on architecturally extended copper has additional architectural qualities. The end result is a design that blends attractiveness, better privacy and security, and ventilation. It can be used for both ornamental and practical purposes, or a combination of the two.
Micro Expanded Copper
Light gauge copper has tiny apertures known as micro expanded copper. Standard, flattened, hexagonal, and square openings are all possible with this material. Filters frequently employ this kind of expanded copper.
Expanded Copper Benefits
Cost-effectiveness: A tiny amount of copper material can be stretched to produce a great amount of expanded copper; this results in dollars being stretched as well through maximizing the use of such material.
Process efficiency: The production and processing of expanded copper mesh results in relatively little waste.
Expanded copper is a good conductor of electricity, magnetic flux, and heat since it is made up of a single piece.
Expanded copper meshes can be used as protective reinforcement and coupled with other materials like glass and concrete to increase their tensile strength.
High strength: Compared to woven copper or jointed welds, expanded coppers are better able to sustain weight and endure stress.
Lightweight: Compared to conventional copper sheets, expanded coppers are lighter.
Enhanced circulation: Expanded copper enables unrestricted movement of light and air.
Specially-designed meshes can be created for soundproofing purposes and to improve acoustics.
Appearance: Copper is an attractive material which is then enhanced through the creation of a mesh pattern.
Copper is more easily sliced and stretched into more complicated shapes than other metals due to its malleability.
Choosing the Correct Expanded Copper Supplier
For the most constructive outcome when selecting an expanded copper supplier, it is important to compare several businesses using our directory of expanded copper suppliers. Each expanded copper supplier has a business profile page highlighting their areas of experience and capabilities, along with a contact form to directly communicate with the supplier for more information or request a quote. Review each expanded copper business website using our patented website previewer to quickly learn what each business specializes in. Then, use our simple RFQ form to contact multiple expanded copper companies with the same form.
Copper Expanded Metal Informational Video