Use our thorough list of expanded metal manufacturers and suppliers in Texas to examine and sort top expanded metal manufacturers with previews of ads and detailed descriptions of each product. Any expanded metal manufacturers can provide expanded metal products and services to meet your companies specific qualifications. An easy connection to reach expanded metal manufacturers through our fast request for quote form is provided as well. This source is right for you whether it's for perforated metal, expanded metal mesh, stainless steel metal mesh or any other expanded metal needs.
Request For Quote
Houston, TX
|
713-957-2256
PWS is considered one of the best sources for perforated metal, wire mesh, expanded metal, bar grating, fiberglass grating, and hex metal. All of our products are available in a multitude of metals and metal alloys including stainless steel, aluminum, Inconel, Monel, and other nickel alloys.
$$$
Companies Serving Near Texas
Chandler, OK
|
405-258-0079
Established in 1985, Central Expanded Metal is an innovative expanded metal manufacturer. Supplying quality products to customers across North America, we pride ourselves in our commitment to quality and customer satisfaction. Working in conjunction with our production staff and sales department, our full-time customer service representative stands ready to meet the needs of every client.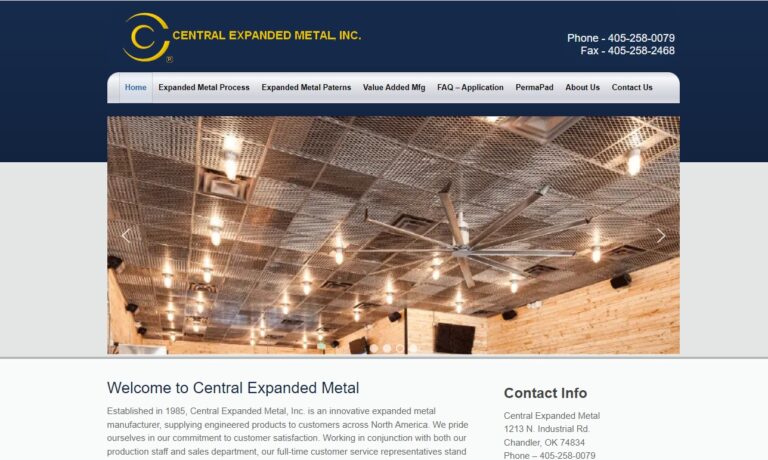 $$$
Oklahoma City, OK
|
800-654-4568
Expanded Solutions puts more than 50 years of experience to work for your requirements in high quality expanded metals, security mesh, mini-mesh & expanded grating. Along with our large mesh capabilities, we have been an innovator in small-mesh products too. For a diversity of options please call today! We continue the tradition of excellence every day by offering quality service & products.
$$$